About me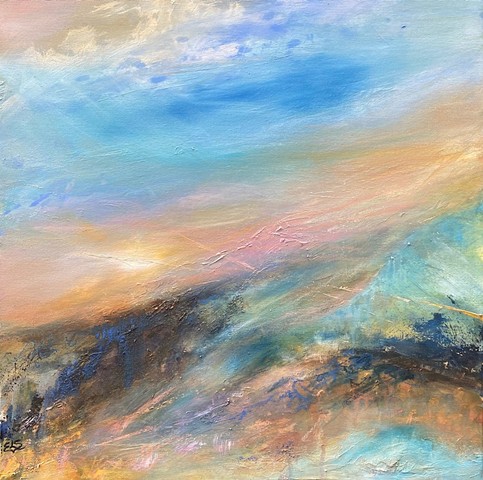 Welcome to my website!
I am a Northampton-based artist born and bred, but I trained in creative arts and printmaking at Bath Spa University, graduating in 2002. University introduced me to a whole new way of working, new techniques and mediums, and inspired me with a love of printmaking which has stayed with me.
These days I am still painting and printmaking in between the realities of a family life and love experimenting with new media and methods to keep my work spontaneous. I have never been one for keeping a sketchbook. I love working straight onto a canvas, paper, lino or copper. I don't want to reproduce something I have produced before. It is the unplanned, the unexpected outcomes in my work that I love the most, the things you can't practice, the happy accidents you can never recreate.
My paintings are based on a love of beautiful landscape. They are nowhere in particular, but may be somewhere to someone, half-remembered places with only one foot in reality. It's more about that feeling of nostalgia you get when you watch the sky getting pinker at sunset, or the sharp intake of breath when you reach the top of a hill and the wide world is spread out below you. It's what landscape inspires in us, rather than about the land itself.
My printmaking is quite a departure from this. There's much more of a narrative, illustrative feel to it. At the moment I am really interested in illustrated alphabets and I like to produce sets of images that people would like to hang at home. I love the chunky simplicity of block printing, belying the work that goes into producing it. And I love monoprinting, that is, painting/producing an image on a surface and printing a one-off unique reverse image of it. It is precisely the sort of spontaneous, unexpected working that draws me to paint.
I have worked several times with various people on illustrating books, in very different ways. I am also writing and illustrating several children's books of my own so they may make it onto the site soon!
I have exhibited several times in Bath, York, Devizes and Northampton. With a young family to occupy me I am mainly exhibiting online through Artfinder where you can also purchase work. Visit www.artfinder.com/emma-saul
I hope you enjoy browsing and thanks again for taking an interest in my work!